Six Indian Women in Forbes 100 Most Powerful Women List
The latest Forbes Power List of Women for the first time includes six Indian women. They include five women from India and one from the USA.
Forbes released its 2017 list of the most powerful women in the world with some surprises and inspiring inclusions. It was not a surprise that boss of PepsiCo, Indra Nooyi would be on the list. She is at No. 11 and a citizen of the United States of America.
At No 32 is ICICI bank's CEO Chanda Kochhar who has taken banking and its endeavour to modernise India through the provision of bank accounts for all to aid inclusion within society. This is particularly crucial for people from poverty-stricken rural areas.
Ranked at No. 57 is HCL Enterprise's CEO Roshni Nadar Malhotra. At 71 is Biocon Limited's Managing Director Kiran Mazumdar-Shaw. Chairperson and Editorial Director for HT Media, Shobhana Bhartia is at No 91. Bollywood superstar and now a major player in Hollywood Priyanka Chopra makes her debut at No 97.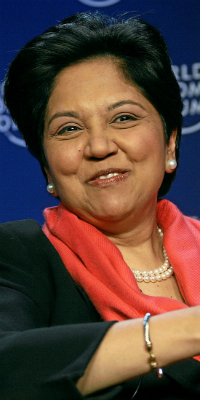 Indra Nooyi
CEO, PepsiCo (ranked 11)
Indra Nooyi is an Indian American who has been on the Forbes Power list since 2008 and was ranked at No 2. In 2016. She is the CEO of PepsiCo, the second largest food and beverage business in the world by net revenue.
According to Forbes, Nooyi is trying to push Pepsi toward healthier offerings while marketing to customers who aren't ready to give up their Mountain Dew. While soda consumption has been declining in the U.S. for more than a decade, finding the right approach to growing the business isn't easy. Pepsi recently lost market share in its soda brands because it shifted too much of its promotional spending toward newer brands such as LIFEWTR. Still, Nooyi is working to cut sugar, salt and fat from many Pepsi products by 2025.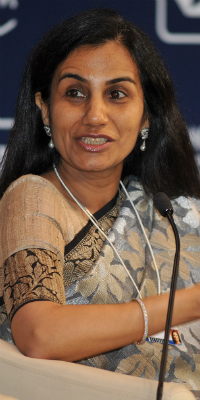 Chanda Kochhar
CEO-Managing director, ICICI Bank (ranked 32)
Chanda Kochhar is Managing Director and Chief Executive officer of ICICI Bank. She is widely recognised for her role in shaping retail banking in India. Born in Jodhpur and raised in Jaipur, she began her ICICI career in 1984 a Management Trainee and climbed the ladder to her current position. She has won numerous international awards.
She was conferred India's highest civilian award Padma Bhushan in 2011 and is the first Indian woman to receive the Woodrow Wilson Award for Global Corporate Citizenship in 2016. She was selected in Time magazine's list of the 100 Most Influential People in the World and ranked first on the Fortune List of 100 Most Powerful Women in Asia Pacific in 2015.
Her ambitious community outreach program, ICICI Digital Village, brought vocational training to over 11,000 villagers in 17 states in India and provided financial tools to aspiring entrepreneurs. The program expects to reach 500 more villages by year's end. Kochhar made history again in September when she took the bank's insurance business public, the first IPO of a general insurer in India.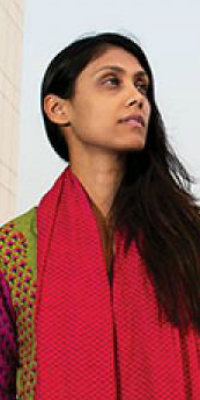 Roshni Nadar Malhotra, CEO
HCL Technologies (ranked 57)
Roshni Nadar Malhotra became CEO of HCL at aged 27 years. She is the only child of HCL's founder, Shiv Nadar. She grew up in Delhi and went to Vasant Valley School and then graduated from Northwestern University in media. She also has a Master's in Business Administration from the Kellogg School of Management and is a trained classical musician.
Malhotra is responsible for all strategic decisions for the $7.5 billion enterprise, which operates in technology, healthcare and infosystems. Founded by her father, Shiv Nadar, in 1976, HCL was on the forefront of the personal-computing industry and became a central player in India's rise as an IT hub. Malhotra is also a trustee of the Shiv Nadar Foundation, which is focused on education and has established some of India's top colleges and schools.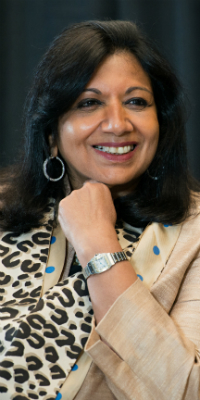 Kiran Mazumdar-Shaw
Founder-chair, Biocon Ltd. (ranked 71)
Kiran Mazumdar-Shaw is India's richest self-made woman with a net worth of $2.5 billion.
She is the chairman and managing director of Biocon Limited, a biotechnology company based in Bengaluru and is the chairperson of IIM-Bangalore.
Her passion for the business stems from the need for affordable drugs in developing countries. Her business strategy has been to develop low-cost drug alternatives to aid the masses. The death of her best friend and illnesses of her husband and her mother with cancer, motivated her to establish a 1,400-bed cancer care centre, the Mazumdar-Shaw Medical Foundation, at the Narayana Health City campus in Bangalore in 2009.
She was the only woman to study Malting and Brewing course in Australia's Federation University as early as 1974. She switched jobs in Melbourne, Kolkata and Baroda, before getting the opportunity start a joint venture with Ireland's Biocon Biochemicals Limited. She was given the responsibility to establish its Indian arm. What began as its operations in India in the garage of Kiran's rented house in Bengaluru in 1978, today is ruling the biotechnology scene in India. Her successful reflects on how she was single-handedly able to get independent control of the biotechnology company in a matter of 20 years.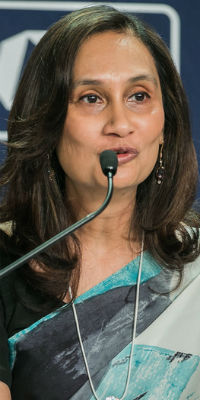 Shobhana Bhartia, Chair, HT Media (ranked 92)
Shobhana Bhartia is a media icon being the Chair and Editorial Director for India's largest listed media company, HT Media which she inherited from her father, industrialist KK Birla. HT Media is the publisher of the English- and Hindi-language dailies Hindustan Times and HT Mumbai, and the business paper Mint. The group also operates four FM radio stations and multiple websites, including job portal Shine and cinema portal Desimartini.
In 2013, Bhartia launched the business weekly MintAsia in Singapore and then bought Webitude, a social and digital media outfit. HT Media's tutoring arm, Studymate, has expanded into coaching students for the admissions exam required by India's elite engineering schools and recently launched Radio Nasha 107.2 in Delhi.
She grew up in Kolkata and studied at Loreto House. She graduated from Calcutta University. When Bhartia joined Hindustan Times in 1986, she was the first woman chief executive of a national newspaper. Considered one of the forces behind the transformation of Hindustan Times 'into a bright, young paper,' she looks after editorial and financial aspects. She raised over Rs. 4 billion through a public equity launch of HT Media in September 2005.
She received the Global Leader of Tomorrow award from the World Economic Forum in 1996.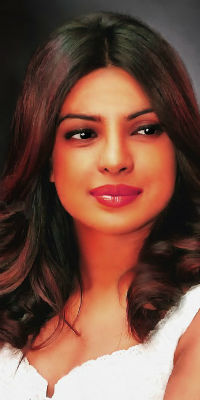 Priyanka Chopra
Actress, Film Producer (ranked 97)
Priyanka is a Bollywood superstar who has crossed the Atlantic and made it in Hollywood. She is multi-talented as a singer, actress, film producer, philanthropist, and the winner of the Miss World 2000 pageant.
She began her acting career in 2003 and has since appeared in more than 40 Bollywood films, making her U.S. big-screen debut in 2017's Baywatch. As the star of ABC's Quantico, she's one of the TV's highest-earning actresses and the first Indian actor to lead a drama series on American television. As a producer, Chopra founded Mumbai-based Purple Pebble Pictures, which strives to promote regional filmmakers and up-and-coming Indian talent. Passionate about protecting children's rights, she's a global UNICEF Goodwill Ambassador and United Nations Foundation Girl Up Champion, and her non-profit The Priyanka Chopra Foundation for Health and Education provides schooling and medical care.
One of India's highest-paid and most popular celebrities, Chopra has received numerous awards, including a National Film Award and five Filmfare Awards. In 2016, the Government of India honoured her with the Padma Shri, the fourth highest civilian award, and Time magazine named her one of the 100 most influential people in the world.
For full List, see Forbes: The World's 100 Most Powerful Women
Photo Sources:
Indra Nooyi: Commons Wikipedia
Chanda Kochhar: Commons Wikipedia
Roshni Nadar Malhotra: Forbes India
Kiran Mazumdar-Shaw: Commons Wikipedia
Shobhana Bhartia: World Economic Forum
Priyanka Chopra: Pixabay