It is Easter time in the Christian calendar, and people are breaking up for the Easter break. But this year, March 31st also represents a famous festival in the Hindu calendar. It is dedicated to the birth one of the great superheroes of civilisation – Lord Hanuman.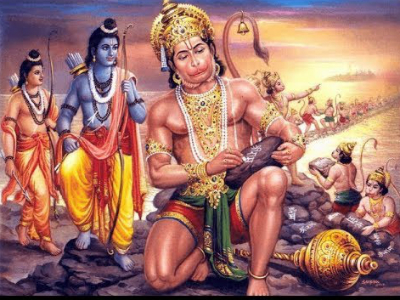 Hanuman Jayanti or Hanuman Janam-Utsav is the celebration of Lord Hanuman birth who dedicated his life to serving Lord Ram unconditionally.
Regarding the Hindu calendar, Hanuman Jayanti falls on the 15th day of Shukla Paksha in the month of Chaitra. Hanuman represents super strength, wisdom and energy. Hanuman was a real superhero who could move mountains and travel at lightning speed. Young children draw him in their classes – remembering him for his great qualities.
For many not familiar with Hanuman Jayanti, may well be more versed with one of the most famous devotional hymns in the world – the Hanuman Chalisa. The qualities of Hanuman is celebrated in the forty verse Hanuman Chalisa which is recited by millions of Hindus all around the world. In fact the Hanuman Chalisa is a singing phenomenon as people try to sing the verse in the infinite variations of style and speed.
The festival itself involves, like most Hindu festivals, fasting, prayers and discourses. Many people visit temples on the day. Most temples including temples in the UK hold special events to mark the occasion. For some who are highly devoted to Hanuman even smear their entire body with sindoor and oil.
So why do people follow Hanuman? For the qualities Hanuman portrays, it is not surprising that the followers seek his protection and blessings. Special prayers are said, and religious offerings are made (often bananas).
In India and Nepal, the offering is also made to monkeys who reside nearby to some of the temples. That is the wonder of Hinduism that it respects nature and its animals as much as humanity.
While it is lovely to see that the Indian diaspora marks the occasion outside India, it is in no way as exuberant as what happens in Indian where people often dress as Hanuman and parade on the streets. Large crowds gather and the event can reach a mega scale.
Hanuman is also remembered in the other Dharmic traditions. He is recognised in Buddhism, Sikhism and Jainism. His popularity has reached beyond Hinduism as filmmakers utilise his image as a superhero. The Hanuman trademark continues to be popular as it helps to bring about and highlight the characteristics of strength, dedication, tolerance and compassion – the positive values that can make this world a better place. Hanuman – the supreme pursuer of truth and justice.
And let us not forget, that Bollywood continues to use Hanuman in its storylines. And the great names of Lata Mangeshkar, Amitabh Bachan and Udit Narayan have released their versions of the Hanuman Chalisa.
Happy Hanuman Jayanti