Life in the era of the COVID-19 pandemic is severe, stressful and in many cases fatal with the UK death rate rising above forty-four thousand. It is during this time; you see and hear about the brave and enduring individuals who find ways to beat the odds against the virus.
We have learnt a great deal about the NHS and social workers. Then there are those key workers without whom the country would stop functioning. Amid all this are the innovators trying out new ideas that make a difference.
One such example is Healing Our Earth (HoE) which is a global online volunteer-led webinars on critical subjects that can aid the wellbeing of individuals and communities.
The scheme has only been running a few months since the rise of COVID-19 and people, especially from the BAME communities desperately trying to get accurate and relevant information. Nil Kumar, the producer of the event, felt that community-led initiatives are needed to get information through to the grassroots.
Nil carries many years of experience in the media world, and for many, he is well known for the big festivals, including the annual Diwali in London.
The recent event on COVID-19 had some unique features. The event was broadcasted for 7 hours offering viewpoints on the virus from a BAME perspective. It reached viewers from all around the globe hitting a footprint of 146 countries, said Nil. Monthly updates will now follow as these highly worthwhile project attracts a whole host of specialists and well-known faces, who all want to contribute and engage with the subject matter.
To set up such an infrastructure is such a short time is an excellent achievement for the team and the community. Nil Kumar argues that Healing the Earth is for everyone who wants to learn and for anyone who would like to contribute. The initiative aims to enhance global cohesion, harmony and make people better informed with the unprecedented challenges we presently face.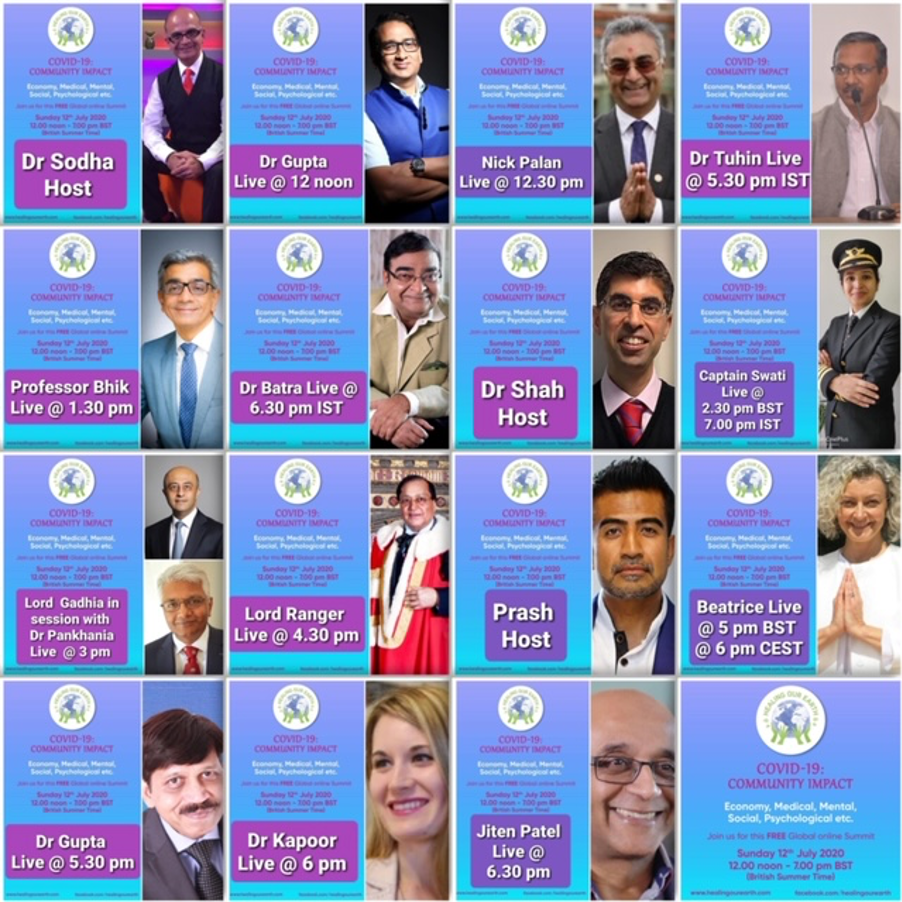 The 7-hour webinar examined the COVID-19 challenge from different angles. In other words, COVID-19 has impacted on us on various levels including physical and mental health, the economy, politically, technically and spiritually.
Recording of the sessions can be viewed at:
https://m.facebook.com/healingourearth
or:
https://m.facebook.com/healingourearth
For those who would like a quick summary to get enticed, here goes:
Chiropractor Dr Lalit Sodha, GP Dr Milen Shah and international Wellbeing and Mindset Coach Prash Kotecha hosted the event.
Dr Sunil Gupta, a consultant haemato-oncologist and a certified Patanjali yoga instructor, talked about the immunity boosting enhancement techniques and impact against COVID-19.
Nitin Palan, MBE founder of Golden Tours and the Palan Foundation and a supporter of HoE argued the business case. More importantly, how to balance the business aims of a company with that of the lives and wellbeing of their staff.
Professor Dr Tuhin Kanti Biswas from Kolkatta India stated the role of Ayurveda in dealing with mental health.
Professor Bhik Kotecha, consultant ENT Surgeon from London, outlined the disproportionate impact on BAME communities from COVID-19. He mentioned the South Asian Health Foundation's report on COVID-19 and BAME, which is worth reading to understand the BAME factor. Please participate in the COVID-19 survey, which will only take you a few minutes at www.lcnl.org/survey.
Dr Mukesh Batra from India outlined the role of homoeopathy in combatting COVID-19. He is well known for his book '13 Steps to Bloody Good Health.'
Captain Swati Raval of Air India talked about her flight to Rome to bring back 263 stranded Indian citizens from Rome on 22 March 2020. She was the first Indian female civil pilot to undertake a rescue mission during the pandemic and upon her return needed to distance from her children.
The keynote session was with Lord Jitesh Gadhia who is also a member of UK-India CEO Forum in conversation with Dr Bharat Pankhania, senior consultant in Communicable Disease Control, Public Health Medicine. Dr Pankhania outlined the latest on the virus in the UK.
Another keynote speaker was Lord Rami Ranger who has won the Queen's Awards for industry eight times. He imparted his valuable experience in achieving success in times of profound changes in our lifestyle.
There was a yoga session by Beatrice, from Italy who trained under Sri Sri Ravi Shankar and is currently the Director of Teacher Training at the Sri Sri Yoga School based in Italy.
Dr Rajeev Gupta, Chairman of Central Specialist Advisory Committee of The Royal College in London, spoke about the medical benefits of yoga, breathing techniques and meditation.
Dr Melissa Kapoor shared her experiences on how Hindu philosophy helps strength mental health.
Jiten Patel, author and diversity expert, shared his knowledge on the coping strategies of lockdown.
Schedule for Future COVID 19 Session on HoE are on:
Sunday, 9 August 2020 at 12.00 – 19.00 UK time
Sunday 6 September 2020 at 12.00 – 19.00 UK time
Sunday 4 October 2020 at 12.00 – 19.00 UK time
Sunday 1 November 2020 at 12.00 – 19.00 UK time
Sunday 6 December 2020 at 12.00 – 19.00 UK time
Recording of COVID-19 Session on Sunday 12 July 2020 can be seen at:
https://m.facebook.com/healingourearth
or
https://m.facebook.com/healingourearth
For further information, please go to https://healingourearth.com