HIndu Muslim Come Dine Together
The City of Leicester always tries hard to bring about the community spirit. More public institutions should come and see some of the ideas in action. The latest one from the St Philips Centre is to bring about stronger bonds between Hindus and Muslims by introducing a Channel 4 type programme 'Come Dine with Me' dinner date.
It should be stressed that Hindus and Muslims get on pretty well in Leicester. Community leaders have worked hard over the decades to keep the communities at peace within and across other faiths. Just to give an example, where my parents live in the Rushey Mead area of the city, they have Sikh, Muslim, Christian and Hindu neighbours. When my father was very ill recently, they all helped out and watched over my mother to make sure everything was fine. They leave their personal phone numbers in case my parents need assistance. They are great neighbours and great people who respect each other's faiths and cultures.
But with the news headlines are constantly buzzing with an onslaught of conflict stories around the world. We live in a global media hub where anything that happens in one region has an impact a few thousand miles away from where the relevant diaspora is based. Just look at the political controversies in the Indian sub-continent with terrorism, Citizen Amendment bills and of course Kashmir.
Thus, the St Phillips schemes are important to keep conflict in check and reminding people that we live in a peaceful multi-faith land of the UK. The organisation is famed for promoting interfaith relations and have run similar schemes in the such as 'Faiths, Forces and Food' and those involving the police forces. It is a wonderful and safe way of meeting people and I myself have had dinners with armed forces and police personnel through the St Philips schemes. Their work should be applauded.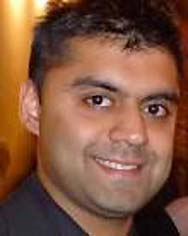 Riaz Ravat, Deputy Director of the St Philip's Centre believes that 'meals' such as these help to break down barriers and encourage interfaith friendships. "The currency of interfaith work is food and wanted to create an arena where friendships can be made through dialogue, transparency and resilience."
Reported in Leicestershire Live, Riaz added that as one of the most culturally diverse cities in the UK, Leicester is recognised for its strong community ties and is something that Riaz said he wants to "build and nurture."
"Ultimately, whatever happens in the other parts of the world, Leicester creates resiliency and harmony," Riaz said.
"This is a way of reminding people we that we have a shared history and could have a shared future."
The week-long scheme coincides with the UN World Interfaith Harmony Week.
Suleman Nagdi, a spokesperson from the Federation of Muslim Organisations, said: "It's a simple act but eating together presents a perfect opportunity for us to teach, share and show that we care for one another and to build a stronger, more accepting city in the process."
Let us hope other cities follow Leicester's example.