Hindu Temple to be built in Abu Dhabi
Prime Minister of India, Narendra Modi inaugurated the foundation stone-laying ceremony for the first Hindu temple to be built in Abu Dhabi, the capital of United Arab Emirates (UAE). Currently, UAE has only one temple for Hindu worshippers, and that is based in Dubai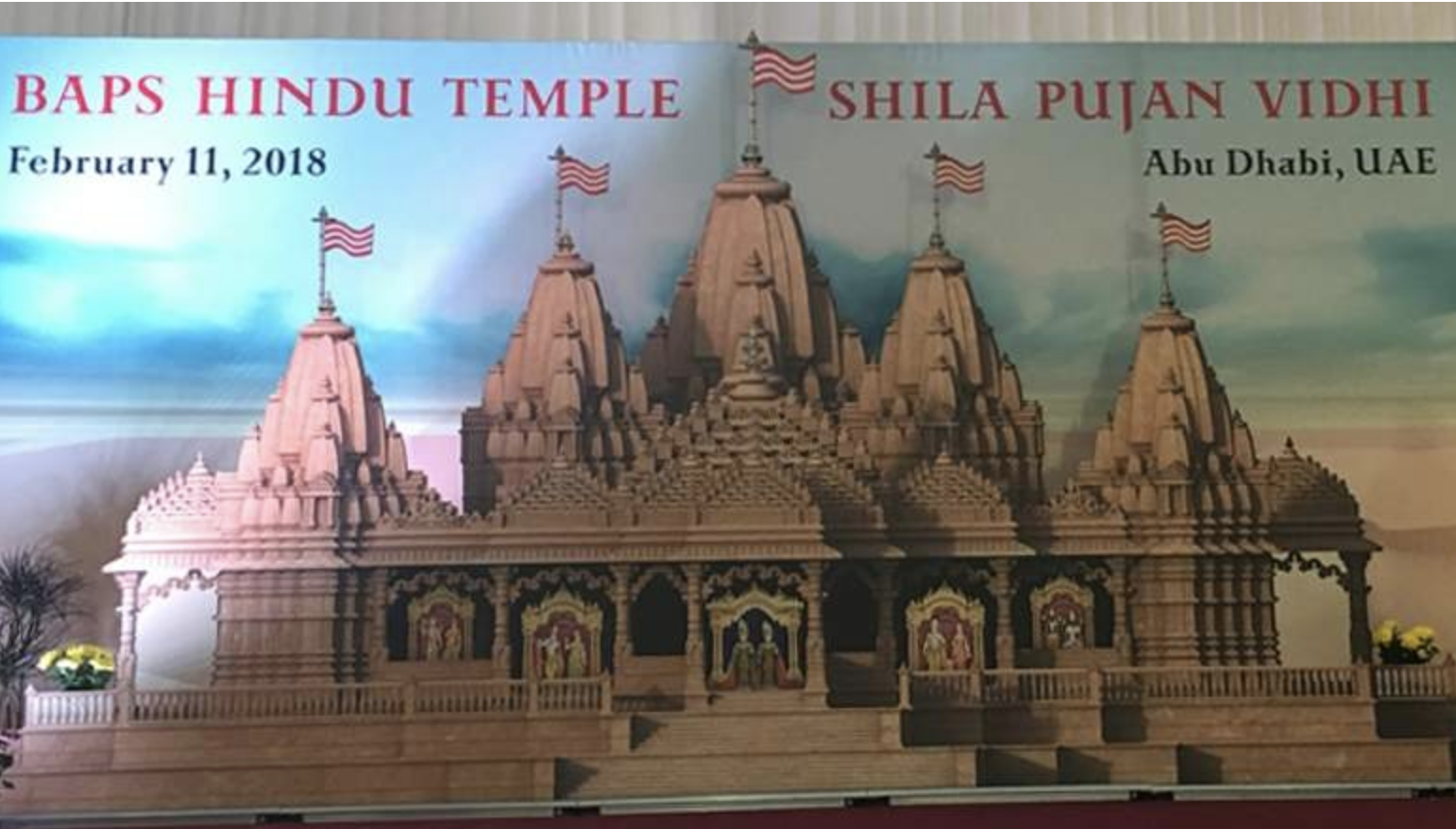 The temple will be built in Abu Dhabi which is a home to more than 3 million people of Indian origin. In a ground breaking ceremony integrating tradition with technology, PM Modi witnessed the ceremony via live-streaming the event to the Dubai Opera House where he met with the local Indian community who had waited eagerly to meet him.
Mr Modi thanked Crown Prince of Abu Dhabi Mohamed bin Zayed Al Nahyan in his second visit to the country since his premier. He stated: "I believe this temple will not be only unique in terms of architecture and splendour, but will also give a message of 'Vasudhaiva Kutumbakam' to people across the world."
The temple is dedicated to Bhagwan Swaminarayan, Akshar-Purushottam Maharaj, Ayappa, Shiv Parivar, Ram Parivar, Radha-Krishna, Balaji Padmavati and other Hindu deities in a 55,000 square metres complex near Al Rahba of the Dubai-Abu Dhabi Sheikh Zayed Highway. It will have seven towers representing the seven emirates in the UAE. It will be the first Hindu stone temple to be built in the Middle East.
The temple will be project managed by the BAPS Swaminarayan Sanstha who are entrusted with the design, construction and management. Like so many other BAPS temples, the project is inspired by His Holiness Pramukh Swami Maharaj and His Holiness Mahant Swami Maharaj.
BAPS is Bochasanwasi Shri Akshar Purushottam Swaminarayan Sanstha, which is a socio-spiritual Hindu organisation set up in 1907 that runs more than 1,200 temples and cultural compounds around the world. In the UK, the most famous of their buildings is the Neasden Temple which attracts dignitaries from around the world.
The temple in Abu Dhabi will be unique and outstanding in its architectural marvel. It will be hand-carved by Indian temple artisans and assembled in the UAE. The temple will incorporate all aspects and features of a traditional Hindu temple as part of a fully functional, social, cultural and spiritual complex. It will replicate the BAPS temple in New Delhi and the one under construction in New Jersey.
The BAPS temple committee had presented the plans and literature to PM Modi and Mohamed bin Zayed Al Nahyan during a meeting the day before the inauguration.
It is expected that the project will be completed in 2020 comprising of a visitors centre, prayer halls, exhibitions, learning areas, sports area for children and youths, thematic gardens, water features, a food court, a books and gift shop and other facilities. It will be open to people of all backgrounds like all BAPS temples.
Photo credits courtesy of Raveesh Kumar@MEAIndia