Places of Worship under attack
The threat to places of worship has been mainly targeted toward mosques and synagogues. It would be an oddity that other places of worship would face any kind of hate from vandals and criminals. But in the last year or so, things have changed, and no places of worship are safe from being hit.
The most recent one being the Gujarati Hindu Social and Cultural Centre in Walsall where an individual casually walks to the temple entrance and started swiping at the idols causing thousands of pounds worth of damage. A few months earlier, Swaminarayan Mandir in London had their idols stolen and on the other side of the Atlantic, another mandir was desecrated by vandals. It is a recurring theme.
The Government had finally heard the call and put aside some funds for places of worship to improve the security as hate crimes against ethnic communities was on the increase, especially after the spate of terrorist attacks and right-wing rhetoric from some of the controversial world leader.
This year, Home Secretary Sajid Javid dedicated further funds for places of worship to improve their safety and security. The Places of Worship (POW) Protective Security Funding Scheme is now open for applications 31 August 2019. So far 130 places of worship have been awarded grants to install measures such as protective alarms, security lighting and access controls.
Compared to previous years, the new application process has been improved by removing the need for applicants to find their own quotes for security measures; instead, applicants will benefit from a central supplier for assessments, quotes and installation. In addition, the scheme now includes faith community centres and broadened the eligibility criteria so that applicants no longer need to show they have already experienced hate crime. Instead, the test will be vulnerability to hate crime.
Further details of the funding scheme and how to apply are provided via the link below.
https://www.gov.uk/guidance/places-of-worship-security-funding-scheme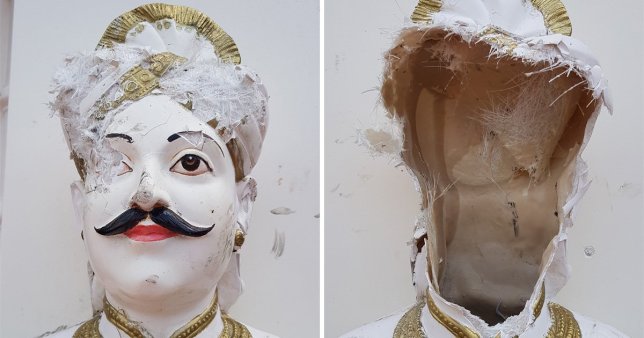 Coming back to the Walsall incident, aside from the costs, there is a human tragedy for the local community bring undue anguish, fear and disenchantment. Apparently, this is the third attack on the temple according to one of the members of the temple. There is CCTV footage of the crime, but it will be difficult for the police to identify the person from the fuzzy footage.
Reported in the Metro newspaper, the member who did not want to be named – also fears that the attacks could escalate.
"Our community are worried that the attacker might target a person next," he said. "There is growing concerns that we are being targeted by someone from the area."
He added: "All but one of the four statues were attacked and broken. "One even had its entire face ripped off.
"The statues are custom-made so to replace them will be very expensive – we may even have to replace the whole frontage.
Staff member Jagu Patel, described seeing CCTV footage showing the attack. 'We just want to know why the people who did this did so. They don't get anything from this and it just seems senseless. 'We've never had this before and it's very sad, as we are a Hindu temple in a quiet area of Walsall, and we feel that every person should live peacefully with heart and soul.'